Polylingual Education Faculty
Polylingual Education Faculty
1. Faculty Business Statement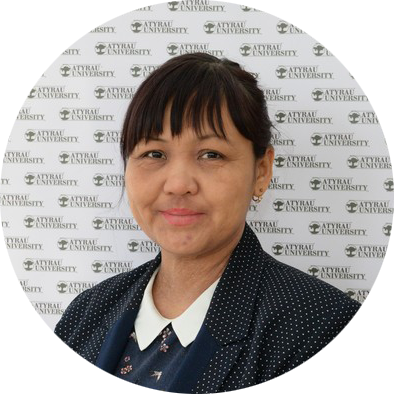 Welcome to the Polylingual Education faculty of Kh.Dosmukhamedov Atyrau State University. I am pleased to invite you to come to study with us.
Today the faculty has four departments: Department of Kazakh language and literature, Department of Russian Philology, Department of Translation studies and foreign languages and the Department of Foreign language education methodology. The faculty also works with creative unions and scientific-research institutes. Studying by students takes place in a scientific and creative community.
As your teachers, the work that we do both in the classroom and outside to support our students is our highest priority. Our aim in this venture is to encourage you to become critical thinkers and independent learners with all the necessary skills and knowledge to take full advantage of higher education.
You will also be joining an international group of students and will have the opportunity to meet new people from all over the world. I am sure that the program of study that you will embark on will be stimulating and challenging but it must also be enjoyable and all our efforts as teachers are devoted to creating the right atmosphere for our students to learn.
You are welcome to join the English Drama Club, Translators club, Oratory Club.
Much time will be spent in the classroom, the library, the laboratory and out in the field but there are other, sometimes even more enjoyable, activities to be engaged in and experiences to be had.
Today's prospective student is a citizen who contributes to development of independent Kazakh republic. There is great confidence that the graduate students of the Polylingual faculty will be the specialists of spiritual rebirth. We trust in you! Trust in us too!
Dean of the faculty
Aigul Sultangubiyeva
---
2. Faculty Name
Polylingual Education Faculty
---
3. Faculty Departments
Kazakh and kazakh literature department

Teaching methods of foreign languages department

Translation studies and foreign languages department
---
4. Number of Staff in faculty
---
5. Number of Students in Faculty
---
6. Course Subjects
Bachelors
5B011900 – Foreign languages: two foreign languages
5B020700 – Translation studies
5B020500 – Philology
5B011700 – Kazakh language and literature
5B020500 – Russian language and literature
5B012200 – Russian language and literature in schools with non-russian language.
Masters
6B020500 – Philology
6B011700 – Kazakh language and literature (1, 2 years)