Эразмус+
ERASMUS+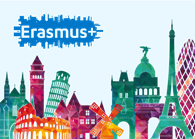 Erasmus + is a program of the European Union aimed at supporting projects in the field of education, training, sports and youth policy, cooperation, and academic mobility.
The Erasmus + program is aimed at promoting further improvement and sustainable development of the education and training system, supporting the development of youth policy and sports, as well as improving skills and improving people's performance. The program provides for increased investment in human development.
The international dimension of the program (i.e. cooperation with partner countries) is primarily aimed at higher education with the possibility of cooperation in the field of youth policy. In higher education, two activities (the joint master's Program and the Jean Monnet program) are funded from the EU's internal budget. For the other two actions (credit mobility and capacity building), funds are allocated from the Fund to develop external cooperation.
New cooperation and mobility projects are selected each year through the Erasmus+application competition. For more information about funding and a full list of features supported by the program, see the Erasmus+program Guide.
You can find information about other components of the Erasmus+ program here http://ec.europa.eu/programmes/erasmus-plus/opportunities_en