Poem reading contest
Poem reading contest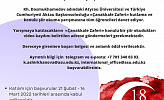 Kh. Dosmukhamedov Atyrau University and the Consulate General of the Republic of Turkey in Aktau will jointly commemorate «Çanakkale Zaferi» and organize a poem contest. Participants are expected to record a video on poem reading about «Çanakkale Zaferi» and send it to the address below.
The winners will be awarded with special certificates and meaningful prizes.
​Works are accepted only in Turkish.
​Applications for participation and works are accepted in the period from February 21 to March 14, 2022
For full information, you can contact: + 7 701 340 03 03 or write
k.ashirkhanova@asu.edu.kz
,
international_office@asu.edu.kz
.
Comments