The hero of the day was awarded the badge "Mentor"
The hero of the day was awarded the badge "Mentor"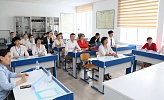 The Republican scientific and Practical Conference "Digital transformation in science and education" dedicated to the 80th anniversary of the veteran teacher of Atyrau University named after Kh.Dosmukhamedov Asylbek Khammetov was held. The meeting was attended by scientists of scientific centers of the country, students, undergraduates, teachers of schools and special educational institutions, students of the Jubilee. "In our region and in the country as a whole, we know that the gratitude of thousands of graduates, whose students are successfully working in all fields of science, is the result of your pedagogical activity. Our country has always relied on patriotic and educated citizens like you. The future of the country-you awaken the national spirit of our youth and deepen the patriotic consciousness, participate in the formation of a state ideology. We thank you for your work for a bright future," said Mukhtarkhan Abagan, President of the Kenesary Khan Public Foundation. On behalf of the staff of the University, the chairman of the management board - rector Salamat Idrisov made a congratulatory speech, noting the significant merits of the Jubilee in the field of Science and education, Asylbek Khammetuly was awarded the Khalel Dosmukhamedov medal. In addition, the chairman of the Atyrau Regional Council of Veterans Murat Saktaiuly awarded the teacher with the badge "mentor", who raised and educated many young people.
The conference will continue with sectional work.