Sports rivalry of Media
Sports rivalry of Media
06/24/2019 82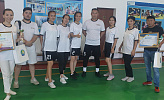 On June 23, on the eve of the Day of workers of Communications and Information of the Republic of Kazakhstan, sports competitions among members of the media were organized by the internal policy department with the support of the Atyrau regional akimat.
8 teams representing regional TV channels, printing and electronic publications took part in them. The teams competed in two sports: mini-football and volleyball.
Employees of the media center of Atyrau State University named after Kh.Dosmukhamedov participated in such a sports contest for the first time. The team of our media center demonstrated superiority over the teams of rivals, taking the III place in football competitions and the II place on volleyball.
Winners and prize-winners of the sports contest were awarded with cups, diplomas and valuable gifts.